Primal Pizza Pie Layer Casserole
A low carb, keto, grain-free, gluten-free, & primal pizza pie layer casserole.
Pin
Primal Pizza Pie Layer Casserole is a grain-free, low carb, and family-friendly casserole. We love this pizza casserole at my house. Even the kids love it. The veggies are hidden, and you really can't taste them. My daughter did notice the green specks of zucchini in the crust but thought it was herbs. If you leave out the cheese, then this casserole becomes paleo-friendly too.
Makes great leftovers too, and can be made in advance and reheated. Finally, something grain-free and low carb that I could bring to a potluck.
While making this, I was going to drain the meat completely but was too lazy to transfer from the pan, so I just poured a little off into a metal bowl.
I was also going to strain and squeeze the ground zucchini but also felt that was too many steps so, I just dumped it in as-is. I put a little more coconut flour then I had originally planned on to absorb the zucchini moisture. Yay, it worked, I get to skip another step. What is your favorite kitchen short cut?
Ground beef and sauce on the bottom layer.
Pin
Spread veggie crust layer over the top of meat layer.
Pin
Smooth out crust layer with the back of spoon or spatula.
Pin
Place pepperoni on top of the crust layer.
Pin
Sprinkle with the cheese.
Pin
Bake 30 minutes and enjoy the pizza goodness~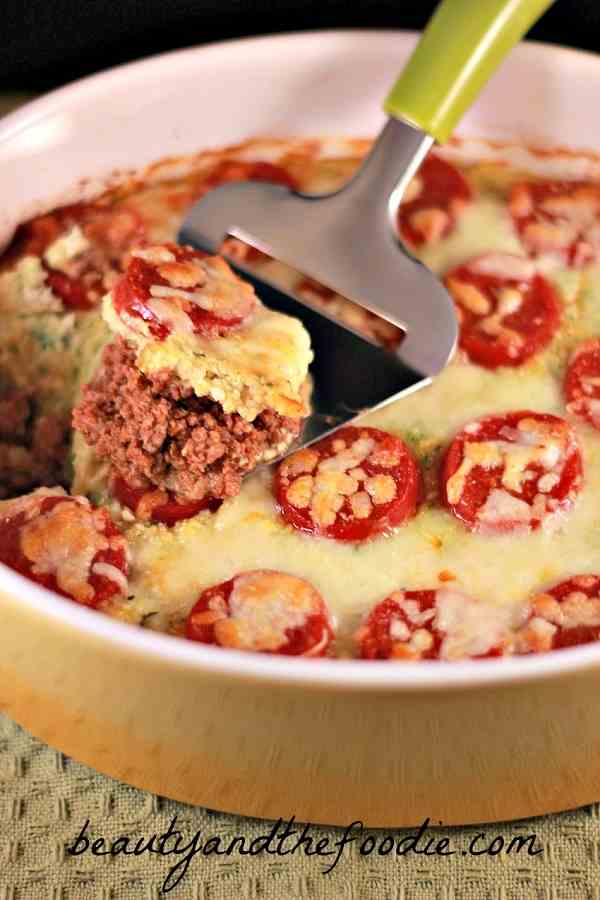 RECIPE AND DIRECTIONS BELOW:
📖 Printable Recipe Card
Primal Pizza Pie Layer Casserole
A grain free, ooey, gooey, pizza layer casserole!
Ingredients
Meat and Sauce Layer:

1

lb

ground beef

browned and lightly drained.

1

cup

organic tomato sauce

make sure tomatoes are the only ingredient., 8 ounces

1

tablespoon

Italian seasonings.

½

teaspoon

garlic powder.

¼

teaspoon

sea salt.

½

teaspoon

oregano

Veggie Crust Layer:

½

medium

raw zucchini, grated or ground.

1

cup

raw cauliflower

grated or ground.

2

cloves

garlic .

2

eggs

beaten.

3

tablespoon

coconut flour.

¼

cup

grated mozzarella cheese or cheese of choice * can omit for paleo.

1

tablespoon

butter

melted or coconut oil, melted.

¼

teaspoon

sea salt.

Topping Layer:

16

slices

of pepperoni or salami.

½

cup

grated cheese of choice

I used mozzarella * can omit for paleo.
Instructions
Preheat oven to 400 F, and lightly grease a 9 x 11x3 inch oval casserole dish.

Using a large fry pan, brown ground beef. Lightly drain some excess grease.

Add to ground beef in pan: tomato sauce, Italian seasonings, garlic powder, oregano, and sea salt. Stir and heat over medium high heat until bubbling. Turn heat to low and cover. Simmer for 6 minutes.

In food processor add: zucchini, cauliflower, and garlic cloves. Process until veggies look like rice granules, or can grate them with grater or ricer.

In large mixing bowl combine: ground zucchini cauliflower garlic, 2 eggs, 3 tablespoon coconut flour, ¼ cup grated cheese, 1 tablespoon melted butter or coconut oil, and ¼ teaspoon sea salt. Mix together until a paste like dough forms, and make sure to break up any coconut flour clumps. Set aside.

Stir simmering ground beef, and remove from heat. Spoon ground beef into casserole dish and spread across bottom of dish.

Take veggie crust dough and spoon on top of meat layer in dish. With the back of large spoon or spatula, spread dough evenly across the top of meat layer and smooth.

Place pepperoni slices on top of veggie crust. Sprinkle grated cheese on top of pepperoni and crust layer.

Bake in oven for 30 minutes or until top of casserole is browning and crust is done.

Remove, cool, serve and enjoy 🙂
*As an Amazon Associate I earn from qualifying purchases.
Notes
Nutritional data includes all toppings and cheese.
* nutritional data is an estimate based on the products I used*
Nutrition
Serving:
1
g
Calories:
358
kcal
Carbohydrates:
8
g
Protein:
29
g
Fat:
22
g
Fiber:
2.2
g
Sugar:
2
g
Nutrition Facts: Yield:6, Serving size: 1 serving out of 6 total servings, Calories: 358, Fat: 22 g, Carbohydrates: 8 g,
Net Carbs: 5.8 g

, Sugar: 2 g Fiber: 2.2 g, Protein: 29 g

*All nutritional data are estimates based on the products I used*

———————————————————————————————————-

———————————————————————————————————