3 Best Ways to Cook Spaghetti Squash-
The 3 best ways to cook spaghetti squash including the fastest, easiest and my most preferred way. Directions include a video.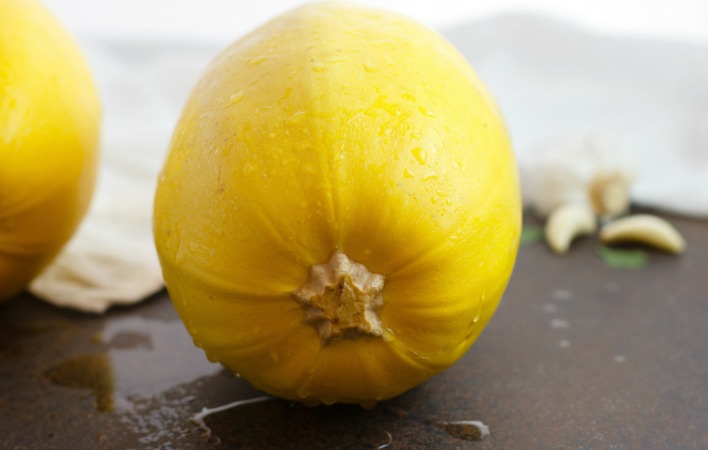 Pin
Spaghetti squash is a delicious vegetable noodle that makes a nutritious substitute for pasta and is lower in calories, carbohydrates, and sugars than traditional pasta.
How do you cook spaghetti squash? And what is the easiest and fastest method to cook spaghetti squash?
Here are the 3 best ways to cook spaghetti squash. I find it easier to cook the whole squash first in the oven or the microwave, and then cut it open once the squash is soft and easy to cut.
Watch Video Directions Below: Click Arrow To Watch:

This post may contain affiliate links. If you purchase through them, your cost will stay the same, but Beauty and the Foodie may receive remuneration or a small commission.  Disclosure & Privacy Policy.
     1. Roasted Whole in the Oven (My preferred way):
Preheat oven to 375 F and line a shallow baking sheet. Using a sharp knife or metal skewer, poke holes all over spaghetti squash (about 6 holes & don't skip this step).

Place whole squash on a shallow baking sheet and bake for 45 to 65 minutes, turning squash halfway through baking time.

Let Cool for 10 to 15 minutes.

Easily cut in half (lengthwise) the spaghetti squash and scoop out all the seeds.

Scrape out the squash with a fork to release the squash noodles.
     2. Microwaved Whole (The fastest way):
Stab whole squash in several places all over whole squash  (about 6 to 7 holes & don't skip this step or squash will explode while microwaving).

Put the squash on a plate. Microwave on high for 15-20 minutes (depending on how big the squash is), rotating the squash halfway during cooking.

Squash will be very hot so wear really good oven mitts to remove and be careful of hot liquid coming out of stab holes, or can wait 10 to 15 minutes until cooled before removing from the microwave oven.

Once cooled slice in half (lengthwise).

Scrape out the noodles from the squash with a fork.
     3. Cut in Half & Baked (The traditional way, but not so easy to cut the uncooked squash):
Preheat Oven to 375°F & grease a baking sheet with olive oil.

Carefully cut the spaghetti squash in half lengthwise (not easy to do).

Scoop out the seeds,  then place cut side down on the prepared sheet pan.

Bake for 45 to 65 minutes, or until the squash flesh becomes tender.

Using a fork scrape out the squash noodles from the spaghetti squash.
*Reminder: Spaghetti Squash is a low carb vegetable but not a "carb free" vegetable, so be careful of portion sizes.
Nutritional Data for Cooked Spaghetti Squash Noodles: Serving Size: 1 Cup (155 g),  Cal: 42, Carbs: 10 g,  Net Carbs: 7.8 g, Fiber: 2.2 g, Fat: 0.4 g,  Saturated Fat: 0 g, Protein: 1 g,  Sugars: 3.9 g, Sodium: 28 mg.
Recommended Tools: 
Pin
Recipes That Use Spaghetti Squash:
Pin