Frosted Chocolate Raspberry Cupcakes
Frosted Chocolate Raspberry Cupcakes are fudgy cupcakes with raspberry accents and frosted with a creamy vanilla frosting. These are grain-free, paleo with low carb and dairy-free versions.
First of all, I just need to say wow, these are so ridiculously good! I will be making these for my birthday. Well, probably sooner than that.
My husband said after he ate one of these, "Wow, these taste like real cupcakes!" As if I've been feeding him fake cupcakes.
When actually, these are the first time I've made healthy cupcakes. I think he was referring to all the muffins I've made.
I don't think he pays attention, or really notices those subtle differences. He is not a big fan of sweets, so he says, but he keeps asking me if he can have more of those cupcakes.
My picky eater child loved these, even though he did not like raspberries. He said they were chocolatey enough to make the berries taste good. These were fairly easy to make and were fudgier than most cupcakes.
I really enjoyed the chocolate and raspberry flavors, and I had one without the frosting, and it was really good as well.
I can't decide if I like them better with or without the frosting. My husband and son prefer frosting. Either way, these are a crowd pleaser.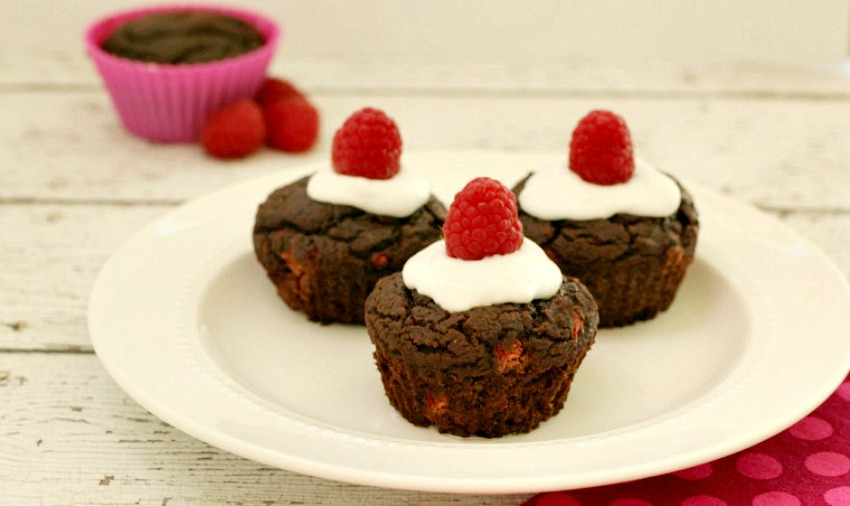 I used these handy Reusable Non-Stick Cupcake/Muffin Cups
Do you prefer chocolate frosted cupcakes? These Keto Rich Chocolate Cupcakes are delicious!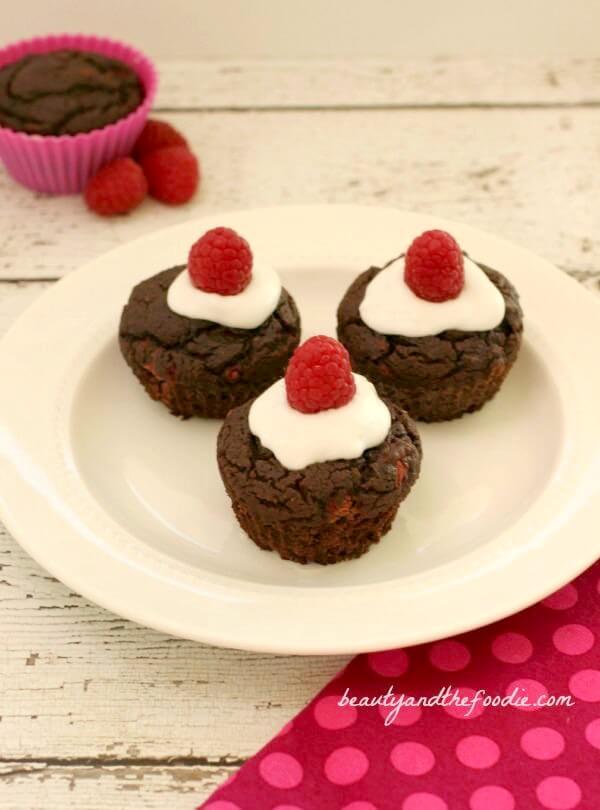 Products & Tools That Are Helpful:

RECIPE AND DIRECTIONS BELOW:
📖 Printable Recipe Card
Paleo Chocolate Raspberry Cupcakes with Vanilla Cream Frosting
Ingredients
6

tablespoon

coconut flour

sifted, like this one

½

cup

sweetener of choice: coconut sugar for paleo

or for low carb use erythritol (like Swerve)

1

teaspoon

baking soda

¼

cup

butter or ghee or coconut oil

2

tablespoon

cocoa powder or cacao powder

3

tablespoon

water

2

eggs

3

tablespoon

unsweetened coconut milk or almond milk + ½ teaspoon apple cider vinegar

mixed together in a separate small bowl.

1

teaspoon

GF vanilla extract

13

raspberries

chopped fine or mashed

VANILLA CREAM FROSTING:

Cream of choice:

for paleo use ½ cup coconut cream (take an unopened can of full fat coconut milk and put can in the freezer for 25 minutes to solidify), or for low carb use 4 ounces cream cheese.

½

teaspoon

lemon juice

½

teaspoon

GF vanilla extract

tablespoon

Sweetener of choice: 1 honey for paleo

or for low carb use ⅓ teaspoon liquid stevia, or more or less to taste
Instructions
Preheat oven to 400 F, and line with muffin cups or grease a muffin pan.

In a large metal, glass or ceramic mixing bowl combine: 6 tablespoon coconut flour and ½ cup sweetener of choice (coconut sugar, or swerve or other low carb granulated sweetener equivalent), and 1 teaspoon baking soda. Mix together thoroughly braking up any clumps. Set aside.

In a small sauce pan over medium heat melt and combine: ¼ cup butter or coconut oil, 2 tablespoon cocoa powder, and 3 tablespoon water. Melt and stir together until combined then bring to a low boil and remove from heat. (I have flash backs of Willie Wonka's chocolate river during this step).

Pour the hot chocolate mixture onto the coconut flour sweetener mixture. Stir together thoroughly.

Add to the mixture: 2 eggs, the 3 tablespoon coconut or almond milk + ½ teaspoon apple cider vinegar, and ½ teaspoon vanilla extract. Mix together well using a large spoon.

Add the finely chopped or smashed raspberries to the batter and lightly stir into the batter.

Spoon batter into muffin cups or pan. Fill ⅔ of each cup. I filled 9 cups.

Bake at 400 F for 18 to 22 minutes, or until tooth pick comes out of center clean.

Remove and let cupcake cool completely.

While cupcakes are cooling, you can make the frosting.

Take the coconut milk can out of freezer and open it (it should be solid, if not put it back in for a while and check later)

In a medium size mixing bowl combine with electric beater: cream cheese or ½ cup solid coconut milk cream, ½ teaspoon lemon juice, ½ tso vanilla extract, and sweetener of choice (either 1 tablespoon honey, or for low carb use ⅓ teaspoon liquid stevia). Mix together until just combined. Put frosting in fridge until cupcakes have cooled enough to frost.

Using a butter knife, frost each cupcake with equal amounts of the frosting.

Enjoy!
*As an Amazon Associate I earn from qualifying purchases.
Notes
Nutritional Data for Low Carb Version (with Swerve sweetener and stevia sweetened frosting):

Serving size: 1 cupcake out of 9, Cal: 89, Carbs: 4.4 g / Net Carbs: 2.1 g, Fiber: 2.3 g, Fat: 9.6 g, Protein : 3 g, Sugar: 1 g
*all nutritional data are estimates based on the products I used*
Recipes you May Also Enjoy:
---
Related Posts Across the Web:
---