Homemade Natural Facial Masks - Winter Edition.
Author: Roxana Oliver-
Even in the ancient times, especially in ancient Egypt, women made facial masks to keep their face beautiful and to protect it from the unfavorable weather conditions. In the ancient Egypt, women mixed honey and milk together in order to make the masks that would hydrate their faces. Today, it is easy to find a facial mask produced by big cosmetic companies. They are available for any skin type. However, now that the winter is coming and you need to protect your face, you can learn how to make some of the great natural facial masks yourself
Fight the Redness with Strawberries
Strawberry Yogurt Mask:
One handful of strawberries will be just enough to fight that pesky redness that winter causes on your face. Turn it into a paste by mixing it up with a tbsp. of honey and some natural yogurt. This can easily be turned into a paste in your blender. Leave it on your face for 20 minutes and wash it off. The secret is in the salicylic acid that soothes down redness and acne.
a few strawberries berries
1 tablespoon honey
1 tablespoon plain natural yogurt
2.  Get Rosy Cheeks with Roses and Honey
Rose Water  & Honey Mask:
You will need the same amounts of rose water and honey. Mixing them well will turn them into a perfect winter mask for your face. The honey will protect it while the rose water will tone it. With combined efforts of these two ingredients, you will have perfect skin during winter. Click here for: How to Make Rose Water
1 tablespoon rose water
1 tablespoon honey
3. Block the Winter Effects with Cocoa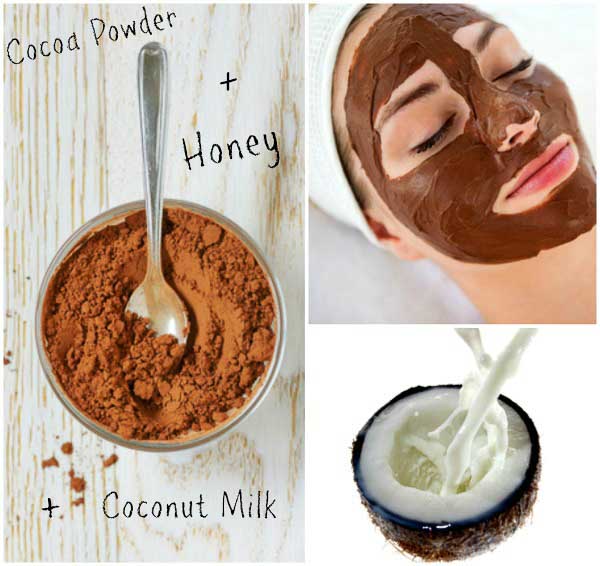 Cocoa Honey and Coconut Milk Mask:
To make this paste and leave it on your face, you need to mix cocoa powder with coconut milk and honey. Ideally, you would use ½ tbsp. of cocoa powder, twice as much honey and four times as much coconut milk. This is ideal for those that have oily skin or active T zone, but still need good protection from winter conditions.
½ tablespoon cocoa powder
1 tablespoon honey
2 tablespoon coconut milk
4. Pamper Your Skin with Milk Mask
Cultured Milk Mask:
People say Cleopatra bathed in milk to keep her skin young. You don't have to go that far. All you have to do is to use a little bit of kefir or sour cream and apply it to your face for 15 minutes. After rinsing it, you will feel the beneficial effects of cultured milk products.
2 tablespoon sour cream or kefir
5. Vitamin and Antioxidant Avocado Bomb
Vitamin & Antioxidant Avocado Bomb Mask:
This powerful treatment is very easy to make. All you need to do is mash an avocado with a fork and add some extra virgin olive oil to it so that it mixes well. That is all you need to feed your face skin with antioxidants, minerals and vitamins and keep it nurtured and strong for all the winter challenges.
2 tablespoon mashed avocado
2 teaspoon olive oil
Besides taking care of your face from the outside, you need to make sure that you lead a healthy life if you want to make your skin look beautiful. All the bad habits are visible on your skin. Therefore, try and eat as much fruits and vegetables as you can during the day, so that you can have enough vitamins for your skin to glow. If your lifestyle doesn't permit it, find a good online vitamin shop and get the supplements that you need in order to stay and look healthy and happy. 
Author Bio
Pin
Roxana is a Sydney based travel enthusiast with a passion for writing. She loves fashion and has an eye for anything visually appealing and aesthetical. She is all about the healthy lifestyle, loves to run with her husband and dogs and has fun cooking exotic meals for her family. You can find her articles on HighStyleLife and StyleByAsia.