How To Make Cooking Videos Using Smartphone
I will show you How to Make Cooking Videos Using Smartphone and inexpensive equipment for beginners.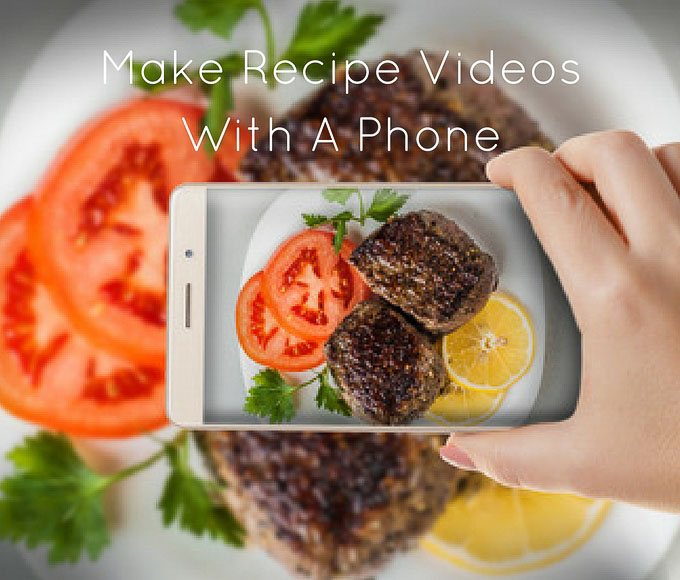 Pin
Have you ever seen those short cooking videos on Facebook, Instagram, YouTube, and even Twitter?
Have you wanted to make one, but thought to yourself: I can't do it, because it is too hard,  it's too expensive to buy all the equipment,  and I have no experience filming video.
I thought that also when I  started making cooking videos just 6 months ago as a complete beginner.
I was really scared and had avoided trying it. After taking a couple of classes, reading every book I could find on the subject, and practicing, I finally feel comfortable making short cooking videos for YouTube, my blog, Facebook, and other social media sites.
I make mostly videos that only have my hands and the ingredients in the videos, as I'm still very uncomfortable being in front of the camera and talking on camera.
I am very awkward and nervous on camera and I don't enjoy being on camera (would much rather be behind it), and I really don't like how my voice sounds when recorded. I feel like my voice is too high and soft, and oh how I wish I had a loud, rich-sounding voice with resonance. I  guess I will never be a radio  DJ, lol.  
Even though I have many fears, concerns, and issues, I decided to make some video tutorials anyways. I really think there is a need for it, and maybe if I give you good information and tips, you will not care how I look, act and sound on camera. I will apologize for some of the bad audio in parts of this video, as my wireless lavaliere mic kept getting tangled in my hair which made a little static. My crazy hair has a mind of its own!
This post contains affiliate links. If you purchase through them, your cost will stay the same, but Beauty and the Foodie may receive remuneration or a small commission. Thank you so much for your support. Disclosure & Privacy Policy.
The materials you will need to get started:
One Smartphone, or iPhone, or Android phone with a video camera that can shoot HD video. Most phones can shoot 1920 x 1080 pixels HD, or 720 X 1280 pixels HD. Even phones a few years old can usually do this. Some newer phones can even shoot in high-resolution 4K, not that you need that (a huge file size to store & most people don't have a screen that is 4k  ready). My phone can shoot in 4k, and I never use it for this.

3 lights (this kit is great for video)

. I go over what types of lights I use, and how I set up the lights I use in the video.
First  Video in The Series: Lighting & Setup for Cooking Videos with your Smartphone:
Watch Video Above Post
More video tutorials coming up soon
The Second Tutorial in the Recipe Video Series Below:

Join My Recipe Video Creator's Facebook Group to Learn and Share Together: click link below
Share and Pin
Pin