Review Steves Paleo Goods
Healthy, delicious tasting Paleo snacks and food products from Steve's Paleo Goods.
*I received  the product in exchange for writing an honest review. Although this post is sponsored, all opinions are my own.*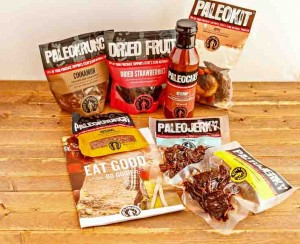 Pin
Steve's Paleo Goods kindly sent me a box of healthy paleo snacks to try and review. I don't normally purchase many packed foods, but I have to say that these products were very high quality and honestly tasted really good! I have to admit I will be purchasing a couple of the products that were very addictive on a regular basis.  All the products are grain free, soy free, and dairy free. The company also gives 15 % of their proceeds to Steve's Club National Program for At Risk Youth. So, not only will you be eating healthy, you will also be supporting a program that helps at risk youth. Check out my review of each product I tried below.
1.
Pin  PALEOKRUNCH CEREAL (CINNAMON):
I enjoyed this grain free crunchy cinnamon granola cereal very much. I have not actually had cereal in a long time because of having Celiac Disease and because the gluten free varieties are so high in sugar and carbs. This one is grain free, lightly sweet and fairy low in sugars and net carbs for a cereal. It really tastes like granola, and it was very filling. I also like that the cinnamon was not over powering either. 5 stars for this one! I loved it!
2.   
PinPaleoChef Ketchup:
This is  a great option for a junk-free, healthy, ketchup. This paleo chef style ketchup was similar to conventional ketchup only not as sweet and has a subtle smokey flavor. 4 stars for this one.
3.    
Pin PALEOKRUNCH BAR (ORIGINAL)
I loved this grain free granola bar! It has a great nutty flavor and just the right amount of sweetness. High in protein and fiber, and it is also very filling. 5 stars for this one! This is a perfect snack or treat.
4.   
Pin  PALEOJERKY SAMPLER PACK
I have to confess, I'm not usually a fan of healthy natural beef jerky products. I have tried different brands in the store, and they just didn't have much flavor and tasted sort of bland. This is not the case with Steve's Paleo Beef Jerky. This is the best grain free, soy free jerky I have tried thus far. They have so many different flavors and varieties as well. 5 stars for this one, and I look forward to trying their many new jerky flavors.
5.   
Pin   DRIED STRAWBERRIES
Okay, these were insanely good! They remind me of fruit gummy bears, only these are much healthier. Although they are a higher carb snack for me, they will be a perfect substitute for when I'm really craving candy. Did I mention that I'm a recovering gummy bear addict, lol.  5 stars for these addictive little treats!
6.   
     APPLE PALEOKIT
This apple paleo kit features dried apples, nuts, and beef jerky. This was the only product I tried that I was not a massive fan of. Perhaps I didn't enjoy the jerky mixed with the fruit and nuts. However, my Husband loved this one. 3 stars for this one because I thought it was okay, but my Hubby loved it.
Shop for more Paleo snack here: Paleo Snacks
* This post was sponsored by Steve's Paleo Goods. I received only the products selected above for an honest review*