The ultimate keto eating out & restaurant guide, with tips, resources, and a free printable PDF restaurant ordering guide (scroll to the bottom of the post for the printable guide).
This guide gives you all the tools, information, and tips you could ever need for eating out at restaurants while on the keto diet.
Pin
The Ultimate Keto Eating Out & Restaurant Guide
Eating Low Carb While Dining Out
Eating out while living a Ketogenic or low-carb lifestyle doesn't have to be challenging and painful.
You don't have to feel left out or like you can't join people or family members when dining out.
It is possible to enjoy delicious meals that are still low in carbs while you are eating out at restaurants.
With a little research and advanced planning, one can most definitely find restaurants that have low carb menu options or swaps that can make a menu item more low carb friendly.
When you travel frequently or just enjoy eating out often, it can be easy to let your carb count get a little out of hand, but by planning and making the right choices, you can find low-carb options at almost any restaurant.
Tips For Going Out to Restaurants On Keto:
1. Check The Menu Online
Try doing an internet search ahead of time for keto-friendly restaurants in your area or the area you will be dining in. Since keto and low carb diets have become very popular, many restaurants are now including low carb and gluten-free options on their menu.

Once you find a list of restaurants that are keto-friendly, then you can check the menu on their website to see which have the best options. Of course, this tip only works if you have a choice in the restaurant destination.

If the restaurant you're going to is someone else's choice and it does not have low carb options on their menu, then call the restaurant and ask if they can make something on the menu more low carb friendly. 

I've found that restaurant staff most of the time don't mind swapping high carb sides for lower-carb veggies, or holding the bun on a burger, or making a salad without croutons and adding a protein like grilled chicken to it.
2. Be Prepared
Before you leave the house, you can give yourself a head start by reviewing the restaurant's menu online. By familiarizing yourself with the menu, you can mentally note which dishes are suitable or can be re-worked a little to become lower in carbs, and this will help you avoid making an unhealthy, and impulsive decision.
3. Fill Up On Healthy Fats
Replace carbs with healthy fat to keep you full and satisfied. Ask for real butter on your steak, ask for mayonnaise & avocado slices on your bunless lettuce-wrapped burger, ask that they cook your eggs in butter, and ask for your salad served with oil and vinegar.
4. Ditch the Pre-Meal Bread Basket
As soon as you are seated at your table, ask the server not to bring any bread, and this will help avoid any unnecessary temptation. 
5. Drinks
Water is always a safe and healthy option when you order drinks at a restaurant. You can also order mineral water, unsweetened iced tea, hot tea, or coffee. 
6. Sauce Tips
Sauces can be tricky and can contain sneaky carbs like flour or sugar. Usually, a cream-based sauce like Alfredo or Bernaise is a good choice, but be sure to ask your server what the sauce ingredients are to make sure there is no flour or sugar added.
7. Dessert
Don't let your sweet tooth sabotage your keto dining experience. Ask your server if you can order some fresh berries, like raspberries or blackberries, and a dollop of fresh cream. This low carb dessert hack will satisfy your sweet tooth.
How To Order Keto-Friendly Choices At Restaurants:
Pin
1. Burger Joints or Deli's Keto Style 
 Buns and bread are high carb and can be omitted from any meal. 

Any burger or sandwich can be lettuce wrapped instead of served with a bun. 

If the restaurant has no idea how to lettuce wrap, then just ask for no bread and a few large leaves of lettuce and make it yourself. 

You can also ask for no bun and eat the burger or sandwich filling with a knife and fork. Some restaurants even have a bunless burger bowl option as well.

Swap Fries for Veggies or a Side Salad.

When dining out for lunch or dinner, many entrees come with the high carb side of fries. Ask if you can swap the fries low carb veggies or for a side salad without croutons and dressed in oil, lemon, and vinegar. I always ask for this swap at many restaurants, and they are always glad to oblige. 

2. Steak House Dining Keto Style
Stick With the Meat and Non-Starchy Veggies.

Often the best option for a low carb meal when dining out is a simple meat and non-starchy vegetable combination. If you don't eat red meat, then you can choose chicken, seafood, or fish instead.

 
Pin
3. Salads and How to Order Them Keto Style
Just because it is a salad does not mean it is low carb. Some salads contain hidden sneaky carbs that you need to watch out for. 

Be sure always to ask what is included in the salad. You should avoid beans, corn, or other starches foods. Don't order any salads that come in a taco type of shell, and ask that they serve without any croutons or tortilla strips.

Chopped bacon or real bacon bits are fine, as is cheese on your salad.

Ask for the dressing on the side so you can control your intake, especially with creamy dressings that can include some carbs. Oil and vinegar dressing is always a safe bet for a lower carb dressing.

Be sure any meat served on the salad is grilled or baked and never breaded or fried. 
Pin
4. Italian Dining Keto Style & Pasta Alternatives
Traditional pasta is a very carbohydrate-rich food. If you have ever had pasta by itself, then you also realize how tasteless it is without any sauce. People don't love the pasta; it is the pasta sauce they love.

Get all the taste & flavor of your favorite Italian meal by pouring marinara or Alfredo sauce on your meat and veggies instead of over pasta.

Some Italian restaurants have joined the spiralized vegetable noodle trend, and even offer spiralized zucchini noodles in place of pasta.

5. Mexican Dining Keto Style
Mexican food is known for its high carb dishes, but there are still some low carb variations you can use for a workaround. 

Order the burrito fillings that can be served without a tortilla, rice, or beans. Just ask for it served bowl style and use your fork, and don't forget to order with no rice, beans, or tortillas.

Tacos can be wrapped or served in a leaf of lettuce instead of a tortilla.

Chile Verde Pork can be served without the tortillas, rice, and beans. 

You can enjoy that salsa with sliced cucumbers or other sliced vegetables instead of the high carb corn chips.

An excellent low carb option in an authentic Mexican joint is the shrimp cocktail or ceviche with some guacamole (omit the chips) for your healthy fat.

6. Sushi Dining Keto Style
If Sushi is your favorite meal, you can still enjoy it, but without the rice or the tempura fried & breaded dishes. Order the cut rolls without rice, or order the hand rolls without rice. Also, a good option is to add cucumber to those rolls instead of rice.

Sashimi platters without rice are a good choice. You can also order from the many sushi salads that include fresh fish over a bed of greens; for example, the spicy tuna salad is a great choice

.

7. Breakfast Dining Keto Style
At breakfast, eggs are really one of your best choices, and there is no limit to the variety of ways they can be served. 

You can order steak and eggs, or a hearty omelet filled with cheese, meats, bacon, veggies, and avocado. The classic standard breakfast of bacon or sausage with eggs is always a good choice as well.

High carb foods to avoid when ordering breakfast are oatmeal, hash browns, waffles, pancakes, muffins, french toast, and toast.

RESTAURANTS THAT OFFER LOWER CARB OPTIONS:
1. Olive Garden: Italian Food
(Check the menu online or call in advance as menu items change periodically)
Order

The Herb-Grilled Salmon

. This meal is a good low carb choice (460 calories, 28g total fat, 8g

carbs, 4g fiber, 4g net carbs, and 43g protein).
2. Carrabba's: Italian Food
(Check the menu online or call in advance as menu items change periodically)
Order

The Tuscan Grilled Filet

. This is a great low carb steak dish (590 calories, 44g total fat, less than 1g net carbs, 0g fiber, and 47g

protein).

Order

The Pollo Rosa Maria

. This is a tasty low carb chicken dish (620 calories, 37g total fat, 4g carbs, 1g fiber, and 65g protein). Just be sure to substitute the side of pasta for a side of veggies on this one.
3. Red Lobster: Seafood
(Check the menu online or call in advance as menu items change periodically)
For a special treat, order

The Steamed Live Maine Lobster

(440 calories, 34g fat, 0g carbs, 0g fiber, and 33g protein)
4. In-N-Out Burger: Burgers 
Order

The Double Cheeseburger or Double Burger Protein Style

(this a lettuce-wrapped burger) & order without the fries, of course. ( Double Double cheeseburger protein style- Cal: 520, Fat: 39g, Total Carbs:11g, Fiber: 3g, Net Carbs: 8g, Protein: 33g. ) Order it without the special sauce and onions to shave off a couple more carbs.
5. Five Guys: Burgers
You can order

a lettuce-wrapped burger or cheeseburger with bacon

here, and you can also get

a burger or bacon burger bowl

here as well. (

nutritional info for Five Guys)
6. Chipotle: Mexican Fast Food
Order

a salad with beef or chicken and grilled vegetables with a side of guacamole

(around 8g total carbs & 6g net carbs)
7. Buffalo Wild Wings: Wings
Order

the snack size Traditional Wings with Medium Sauce

(390 calories, 23g fat, 0g fiber, 2g net carbs, and 44g protein)
8.
Starbucks: Cafe & Coffee:

(Check the menu online or call in advance as menu items change periodically)
Drinks at Starbucks Keto Style

: 
Brewed Coffee & Heavy Cream: less than 1g of carbs.

Keto Style Latte: Order a tall Cafe Americano. Order ¾ hot water and the rest steamed heavy cream.  

Keto Style Mocha Latte: Order a tall Cafe Americano with ¾ water, and the rest with steamed heavy cream and just one or two pumps of the "skinny sugar-free" mocha syrup.  
Click the link below for your Free Printable Keto Restaurant Guide
Printable PDF Keto Restaurant Guide
*If PDF download shows blank page; trying opening in "incognito mode"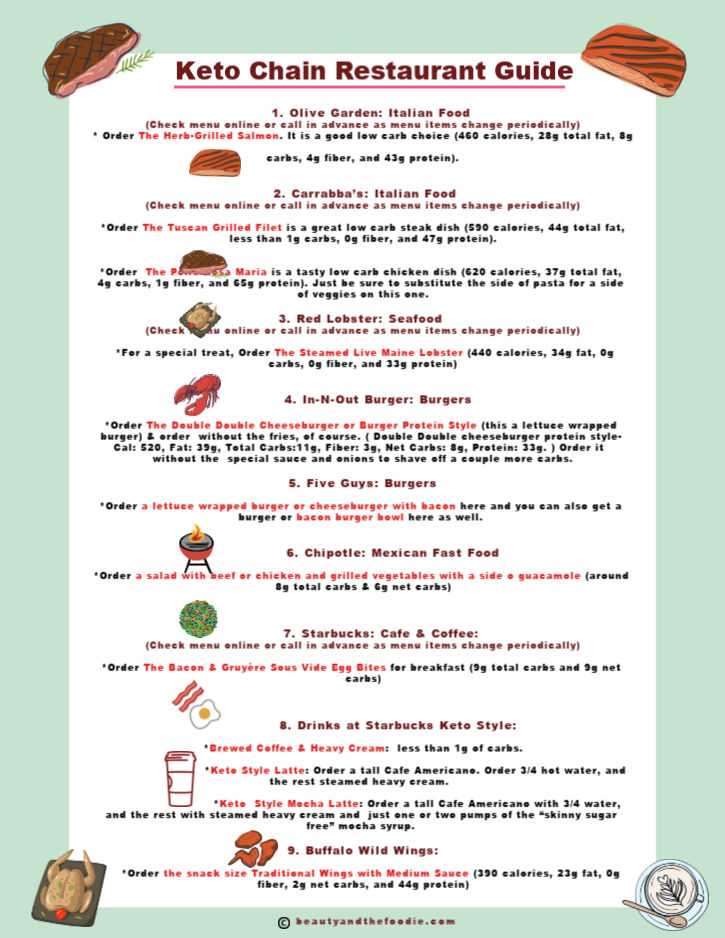 Ultimate Keto Eating Out & Restaurant Guide
You May Also Like These Posts: