Baked Parsnip Chips are paleo and similar to potato chips.
Pin
Baked Parsnip Chips are paleo, vegan and actually taste very good! A shocking discovery to me, as I don't really enjoy most root vegetables.
A good friend of mine introduced me to this organic brand of parsnip chips at a gourmet grocery store. I had told her that I really don't like root vegetables, and she assured me that these were excellent.
They were delicious, although made with an oil that I don't think is very healthy. As it turned out, the store either stopped carrying them or could not order them anymore. So, I was forced to make my own. Just as well, since I can make mine with a better oil choice and try baking them instead.
Although, you could deep fry these as well. I don't have a deep fryer, so I baked them in avocado oil with sea salt, but you can fry these in a deep fryer as well. I still can't believe these parsnips are so tasty! Be sure to use a  Mandolin Slicer on thin or a vegetable peeler to get the slices thin enough, or they won't get crisp in the oven.
Don't use a knife like in the photo. The parsnip just looked so bland without a kitchen tool and the mandolin slicer would not fit in the picture frame.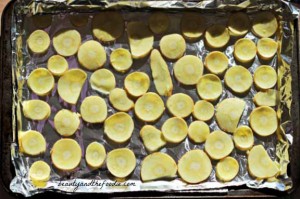 Pin
📖 Printable Recipe Card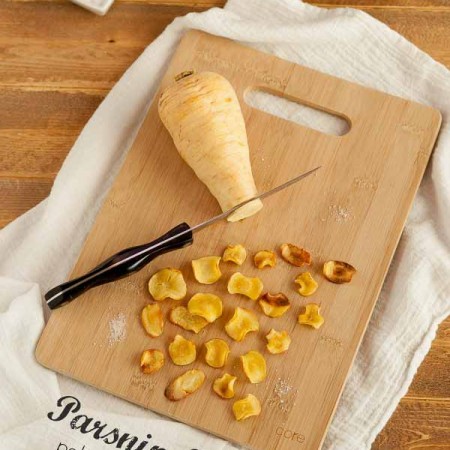 Baked Parsnip Chips
Crunchy, salty parsnip chips.
Ingredients
2

cups

thin sliced parsnips

use a mandolin slicer or vegetable peeler ( about 2 whole medium parsnips)

3

tablespoon

avocado oil

or olive oil

2

teaspoon

sea salt

or more to taste
Instructions
Preheat oven to 425 F and line 2 baking sheets.

Use a mandolin slicer or vegetable peeler to slice the the parsnips into thin slices.

In a large bowl combine: parsnip slices, avocado oil and sea salt. Toss with spoon to coat in oil and salt.

Place parsnip slices onto lined baking sheets. Bake each sheet of chips, one at a time, for 12 to 20 minutes or more until browned and crisp. Check at 10 minutes and if they are still soft then continue baking. Once browned and crisp let cool a little to dry out. If they are still soft then they need to bake a little longer. Bake the second sheet after the first is done. Add more salt to taste if desired. Or you can deep fry these in oil according to fryer instructions.
*As an Amazon Associate I earn from qualifying purchases.
Notes
* all nutritional data are estimates based on the products I used*
Nutrition
Serving:
1
g
Calories:
87
kcal
Carbohydrates:
9
g
Protein:
1
g
Fat:
6
g
Saturated Fat:
1
g
Polyunsaturated Fat:
5
g
Sodium:
628
mg
Fiber:
2
g
Sugar:
2
g
Nutritional Data: Serving size: 1 serving @ ⅓ cup serving out of 6 servings, Calories: 87, Fat: 6 g,Saturated fat: 1 g, Unsaturated fat: 5 g, Trans fat: 0 g, Carbohydrates: 9 g / Net Carbs: 7 g, Sugar: 2 g, Sodium: 628 mg, Fiber: 2 g, Protein: 1 g,Cholesterol: 0 mg
Recipes You May Also Enjoy: