Keto Butter Cream mints are no-bake, soft, creamy, buttery peppermint cream cheese treats with zero net carbs per mint treat.
These minty treats remind me of the taste of those soft wedding mints but with a softer texture.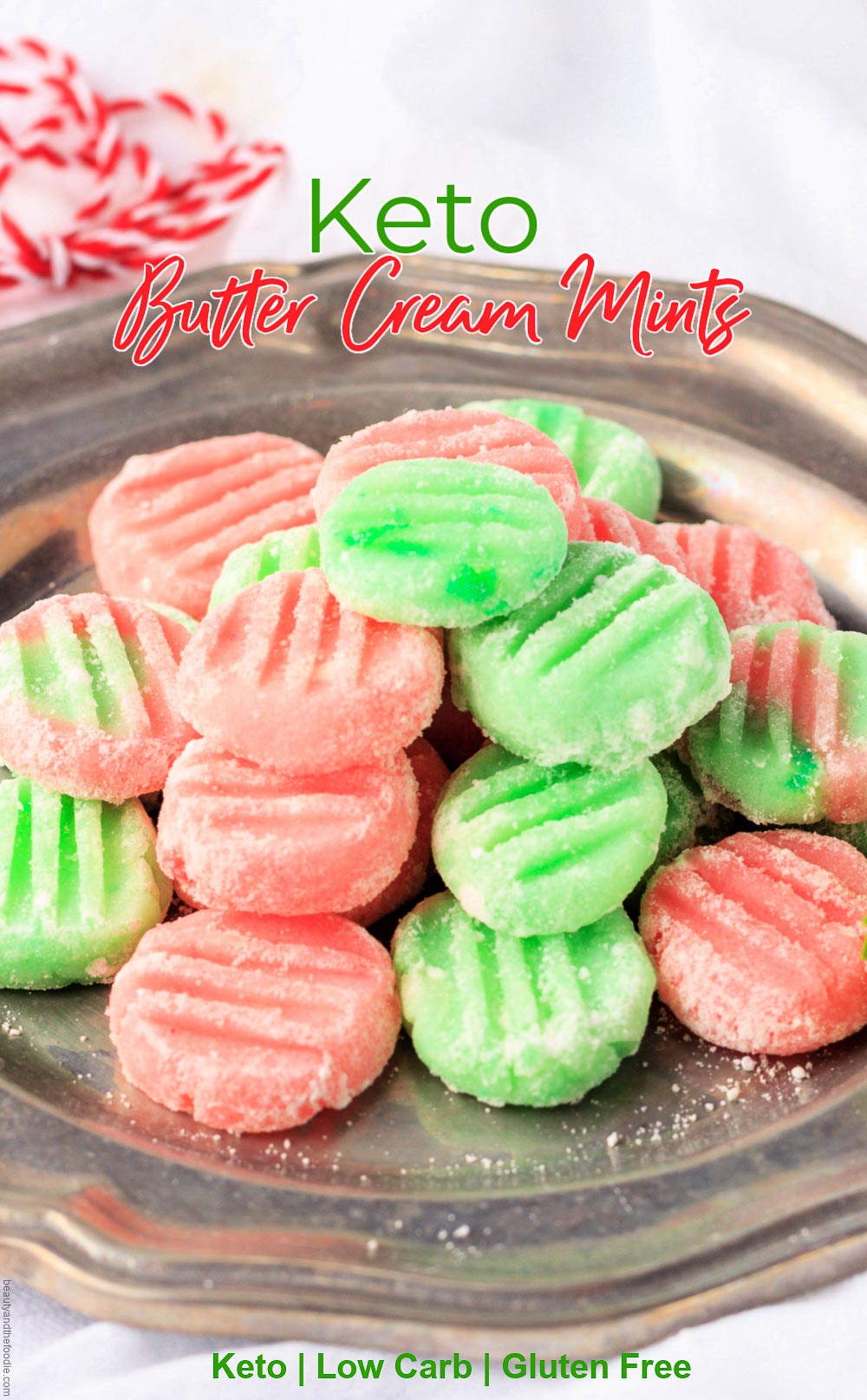 I do remember as a kid, my sister was at a cousin's wedding rehearsal, and she was sneakily grabbing those wedding mints out of a bowl and trying to swallow them without chewing (so she wouldn't get caught).
She would have got away with it too, but she started choking on them, and my dad had to perform the Heimlich maneuver on her.
My sister was fine, but we always remember that story when we see those mints at a restaurant.
Fortunately, these mints are much softer than the wedding mints and not such a choking hazard.
This post contains affiliate links. If you purchase through them, your cost will stay the same, but Beauty and the Foodie may receive remuneration or a small commission. Disclosure & Privacy Policy.
Although, that event was not the only time my sister had to have the Heimlich maneuver done on her as a child.
My sister always ate very fast and yet never gained weight. On the other hand, I was a super picky eater, ate super slow, pushing around my food to detect any undesirable hidden onions or the like, and I gained weight very quickly.
I used a drop or two of organic natural red and green food coloring to make the mints more colorful and festive for the holidays, but someone can prepare the mints without the food coloring, and they will be a white mint color.
My kids even made a couple of tye-dye colored mints by mixing the 2 dough colors when rolling the balls before pressing with a fork.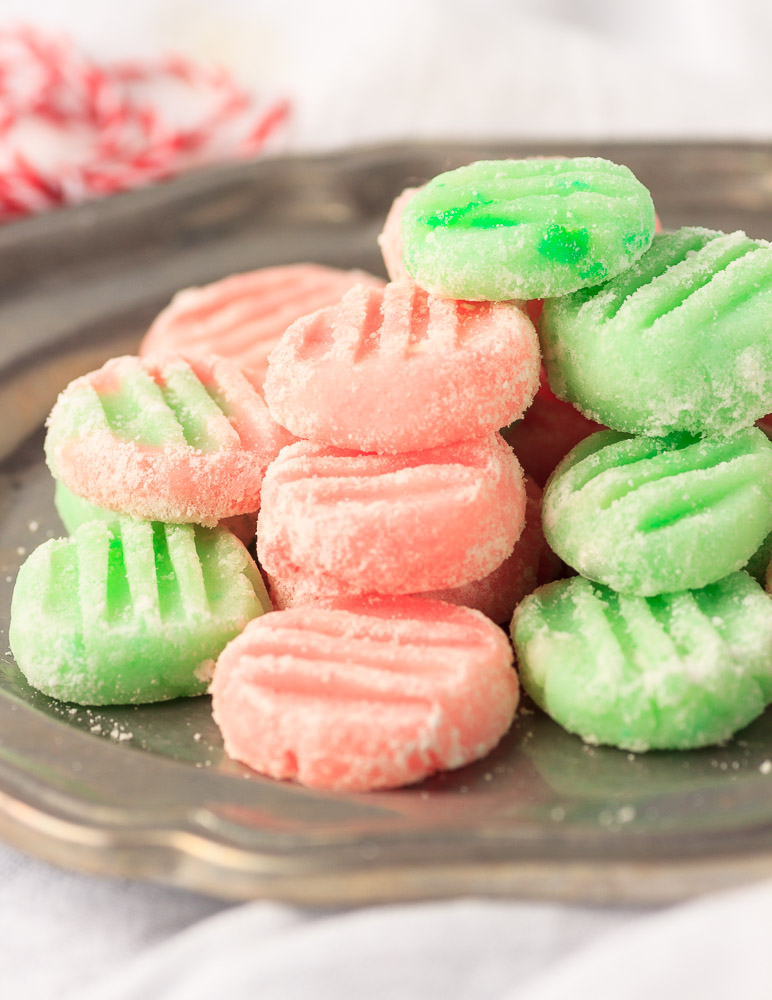 Common Questions About the Keto Butter Cream Mints Recipe:
Can I use granular sweetener instead of powdered sweetener in the recipe?
You must use a powdered sweetener in this recipe, as a granular sweetener will be gritty in this no-bake recipe. If you only have granulated sweetener, add it to a food processor and pulse until powdered texture performs.

Can I make the mints without natural food coloring?
You can make these without the food colors as they are only optional and for decorative purposes and not required.

How much mint extract should I use?

You should use ½ to 1 teaspoon depending on how minty you would like the flavor to be. I would use a ½ teaspoon first, then do a taste test and add a little more to taste.

Printable Recipe Card Below
📖 Printable Recipe Card
Keto Butter Cream Mints
Keto Butter Cream mints are no-bake, soft, creamy, buttery peppermint cream cheese treats with zero net carbs per mint treat.
Instructions
Add softened cream cheese, softened butter, powdered sweetener, and mint extract to a mixing bowl.

Using a hand mixer or stand mixer, mix the ingredients until smooth and creamy. Scrape sides of the bowl with a rubber scraper and mix again until combined.

Separate the dough into 2 bowls or more depending on if using food coloring and how many colors of food color will be used.

If using food color, then add one to two drops of color to each bowl. Stir the color into the dough.

Cover and place the bowl or bowls into the refrigerator and chill for at least two hours until the dough is not so sticky.

Remove the bowls from fridge and using your hands pinch off small amounts of the dough and roll between your palms to form small ½ tablespoon sized dough balls.

Place these balls onto baking sheets lined with parchment paper.

Use a fork to gently press each ball into a small round wafer shape.

Place the baking sheets into the fridge to chill again for one hour.

Place the mints into an airtight container while separating the layers with parchment paper.

Store the mints in a covered container in the refrigerator or freezer.
*As an Amazon Associate I earn from qualifying purchases.
Notes
*all nutritional data are estimates based on the products I used*
Yield 40 mints,  Servings: 20, Serving Size: 2 mints,

Net Carbs Per 2 Mints: 0g,

Amounts per serving-
Nutrition
Serving:
2
mints
Calories:
60
kcal
Carbohydrates:
0
g
Protein:
1
g
Fat:
6
g
Saturated Fat:
4
g
Cholesterol:
18
mg
Sodium:
44
mg
Fiber:
0
g
Sugar:
0
g
Recipes You May Also Enjoy: