PinMofongo Puerto Rican Style Plantains are a paleo friendly , delicious, sub for mashed potatoes. Made with mashed plantains, garlic and bacon, you may even like it better than potatoes!
While visiting the beautiful Island of Puerto Rico last summer, I became obsessed with their delicious Mofongo. I must have ate at least 5 different kinds. I learned to make it, but had to change it a little to make it more Paleo friendly.
It can be made as a side dish, or topped with marinated beef, chicken, or shrimp as a main-dish.
📖 Printable Recipe Card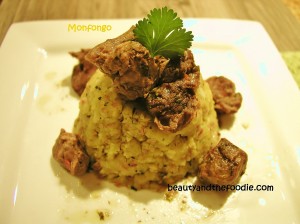 Mofongo Puerto Rican Style Plantains
Ingredients
3

Large Green Plantains

not yellow or red ones ( do not sub with banana)

4

Cups

Organic Chicken Broth or Home made chicken broth

3

Coves Garlic

Peeled and Chopped.

5

Slices

of Bacon ( uncured

nitrate free kind)

⅓

Cup

fresh Cilantro

chopped

¼

Cup

Extra Virgin Olive Oil

4

Cloves

Garlic

Peeled and minced

½

teaspoon

Himilayan Sea Salt * optional

½

Lb

to 1 Marinated

and cooked Beef, Chicken or Shrimp ( I marinate mine in a sauce of : 2 tablespoon olive oil, 2 cloves minced garlic, 3 tablespoon cilantro, 2 tablespoon lime juice and 1 tablespoon vinegar, then bake for 20 or more minutes in 400 F oven.) * optional, omit if making this a side dish.
Instructions
Put on some rubber gloves, really do it, plantains stain your skin and nails black.

Chop ends off plantains.

Score ,with sharp knife, the plantains down each rib, about four lines.

Wedge your fingers or a spoon between plantain and the peel ,then slide down until each scored section of the peel comes off.* might take a little practice.

Chop Plantains into small slices, and add to a stock pot.

Pour chicken broth over plantains in pot.

Add 3 cloves chopped Garlic to broth, and bring pot to a boil.

turn heat down to medium, cover pot and boil for 25 to 30 minutes, or until plantains are really soft.

while Plantains are cooking, Fry Bacon slices till crisp.

Remove bacon from pan and set on paper towels.

Add 4 cloves of minced Garlic to bacon grease in pan, and saute until softened.

Chop bacon into crumbles.

Add: bacon, garlic with a little bacon grease, chopped cilantro, and olive oil to a food processor.

Process until a paste forms, remove paste and put in a bowl, and set aside.

Drain cooked plantains in a colander.

Place plantains back in the warm pot and mash with a potato masher or electric hand beater.

Mash or beat until it forms a "lumpy mash potato" consistency.

Add the bacon cilantro paste to your mashed plantains, and stir in well.

Separate mashed plantains into 4 lumps.

Mold each lump on a plate with your clean hands, (sorry, o.c.d moment).

you can do a dome shape, or I make a dome then flatten the top ( like a plateau shape)

Put marinated meat over top for main dish, or leave plain for a side dish.
*As an Amazon Associate I earn from qualifying purchases.
Nutrition
Calories:
305
kcal
Carbohydrates:
29
g
Protein:
5
g
Fat:
16
g
Fiber:
1.9
g