Pin
Paleo Banana Upside Down Cake is an easy, grain free, paleo treat to make, and a great way to use up those ripe bananas. I know, bananas are not low carb, so I do have options for low carb. Just swap out the bananas with blueberries or blackberries. I mostly eat primal and low carb, but my kids are not low carb, and my hubby definitely is not low carb. But I do sometimes indulge in the small amounts of banana, especially if I've had a physically active week. I limit the higher carb fruits and veggies, but I don't omit them from my diet entirely. I always feel like I need to explain than I'm" low carb" and not  "no carb".  Although, if I start gaining weight I do go back to very low carb way of eating. I need to stop boring you with how I eat, and start  showing you the recipe. Anyhow, this is an easy recipe to throw together whether you chose the paleo ,or low carb version.
Placing melted butter (or coconut oil), sweetener, cinnamon, and fruit on bottom layer of pan.
Pin
Spooning top cake layer into pan and spreading across the pan.
Pin
Bake at 350 F for 25 minutes or more.
Pin
Remove from oven. Cool and turn upside down onto plate.
Pin
Slice and serve.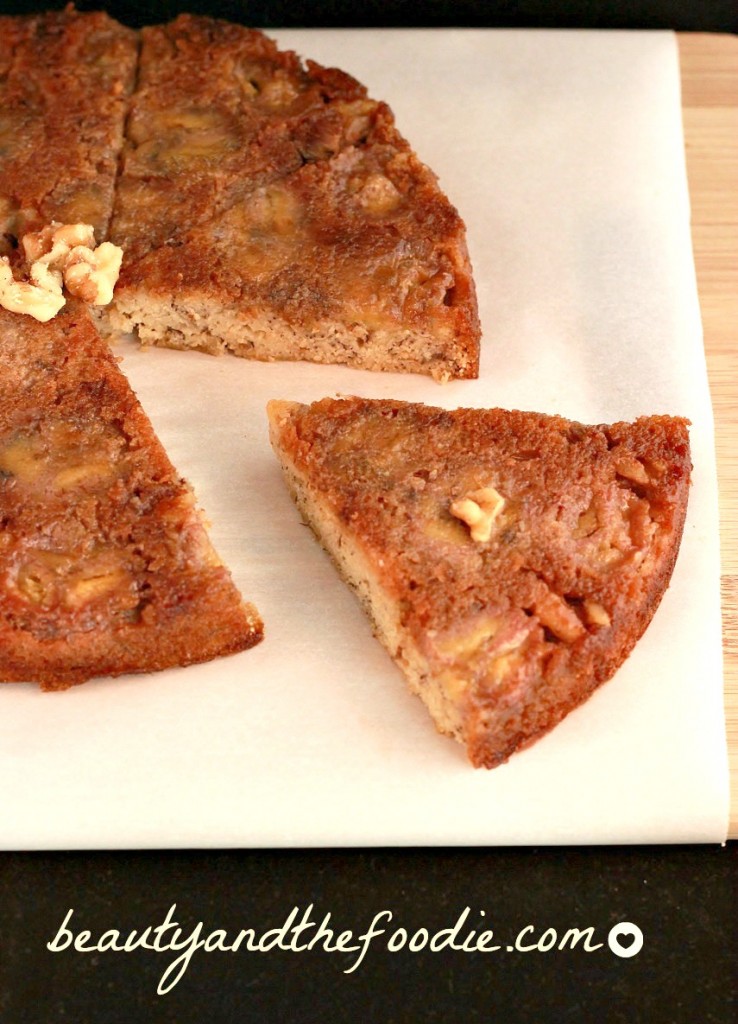 Pin
📖 Printable Recipe Card
Banana Upside Down Cake
An easy, paleo banana upside down cake that includes a lower carb version.
Ingredients
Bottom Fruit Layer:

2

tbsps

butter or coconut oil

melted, where to buy coconut oil

1

cup

small banana

sliced, or ¼ blueberries for low carb version

2

tbsps

walnut pieces * optional

can omit for nut free.

2

tbsps

coconut sugar

or 2 tbsps erythritol for low carb, where to buy erythritol

1

teaspoon

ground cinnamon.

Top Cake Layer:

2

eggs

beaten.

cup

Sweetener of choice: ⅓ organic maple syrup for paleo

or ⅓ cup low carb maple syrup for low carb version, I used this low carb one

¼

cup

unsweetened coconut milk

or unsweetened almond milk.

1

teaspoon

organic GF vanilla extract

or 1 teaspoon ground vanilla bean

½

teaspoon

baking soda.

1

teaspoon

apple cider vinegar.

1

cup

small banana

mashed, or ¼ blueberries for lower carb version.

⅓

cup

coconut flour

where to buy coconut flour

Kitchen Tools:

One large mixing bowl.

inch

One 9 round cake pan.
Instructions
Preheat oven to 350 F, and lightly grease a 9 inch cake pan.

Place 2 tbsps butter or coconut oil into cake pan, and put pan into preheating oven for a couple minutes to melt butter or oil. Once melted, make sure butter or oil is evenly distributed all over the bottom of the pan.

Sprinkle 2 tbsps coconut sugar or granulated low carb sweetener all over the melted butter or oil.

Sprinkle 1 teaspoon cinnamon on top of sweetener layer.

Layer banana slices or blueberries on top of butter- sweetener layer, as seen in photo above. Add optional walnut pieces to fruit layer. Set aside.

In a large mixing bowl combine all the "top cake layer" ingredients except for the coconut flour. Mix thoroughly, then add the coconut flour and mix well, scraping sides of bowl, and braking up any coconut flour clumps.

Spoon cake batter on top of fruit layer in pan,* as seen in photo above. Spread cake batter evenly across entire pan.

Bake for 25 minutes or until top of cake is browned and center is set.

Remove from oven and let cool completely.

Use a butter knife between cake and edge of pan and slide around to loosen cake from pan. Turn cake pan upside down onto a large plate or serving platter. Cake should fall onto plate, but if not, then use a turning spatula to lift gently under cake a little, and then turn upside down onto plate.

Slice and serve.

Should be stored in fridge, if serving later.
*As an Amazon Associate I earn from qualifying purchases.
Notes
Nutritional Data for Paleo version with banana:

Total Number of Servings: 8, Serving Size: 1 slice , Cal: 183, Carbs: 28 g / Net Carbs: 25.4 g, Fiber: 2.6 g, Fat: 6 g, Protein: 3 g, Sugar: 22 g
Nutritional Data for Low carb version with blueberries:

Total Number of Servings: 8,
Serving Size: 1 slice, Cal: 97, Carbs: 6.5 / Net Carbs: 3.9 g, Fiber: 2.6 g, Fat: 6 g, Protein: 3 g, Sugar: 2 g