Garlic Cashew Crusted Pork Chops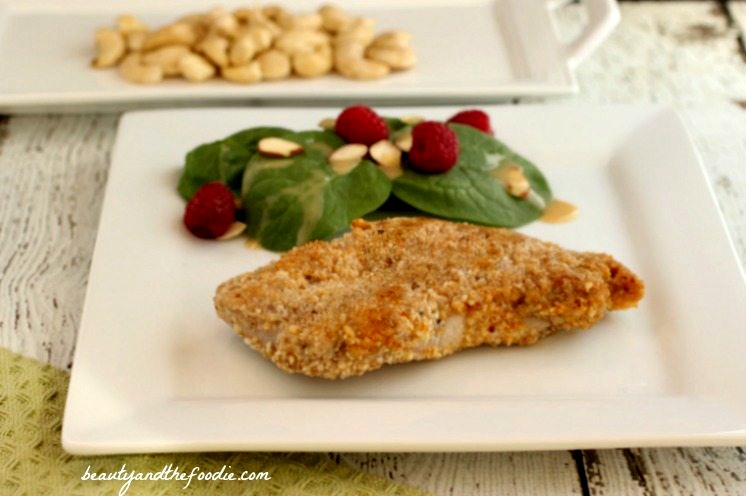 Pin
 Garlic Cashew Crusted Pork Chops are my primal, paleo, low carb version of "shake and bake" pork chops. Except these are grain free and taste even better.  I have been experimenting with cashew meal and sunflower meal
I have been experimenting with cashew meal and sunflower meal lately in the kitchen. Surprised to find out that this combination of nut and seed meals makes the best pork chop breading I have ever had.
My husband said that these pork chops were better than the ones I used to make with the shake and bake breading.  He is really particular about pork chops, as they are his childhood favorite. We both grew up with those shake and bake pork chops.
We have these garlic cashew crusted pork chops at least once a week now, and I always serve them with a spinach salad. My hubby has to always have spinach with his pork chops. He says they go together, and can't be served apart. I call his quirky food rules that don't make sense "food OCD".
Pin
RECIPE AND DIRECTIONS BELOW:
Garlic Cashew Crusted Pork Chops
Ingredients
5

medium size pork chops

2

eggs

beaten

½

cup

cashew meal or almond flour

you can grind up raw cashews into a powdered meal using a magic bullet type blender.

⅓

cup

ground sunflower seeds, or can use ⅓ cup almond flour

(grind up raw shelled sunflower seeds into a powdered meal)

2

teaspoon

garlic powder

1

teaspoon

sea salt

1 ½

teaspoon

smoked paprika

like this one

1

teaspoon

chipotle chili powder

like this one

½

teaspoon

black pepper

2

tablespoon

parmesan cheese * optional

can omit if dairy free.
Instructions
Preheat oven to 400 F, and generously grease or oil a large baking dish.

In a processor or magic bullet type blender, grind up cashews until powdered meal forms (if you can't find cashew meal). Put ground cashews or almond flour in a bowl and set aside.

In processor or magic bullet type blender grind the sunflower seeds until powdered meal forms. Add ground sunflower seeds to the cashew meal in bowl.

Combine with the cashew and sunflower meal: 2 teaspoon garlic powder, 1 teaspoon sea salt, 1 ½ teaspoon smoked paprika, 1 teaspoon chipotle chili powder, ½ teaspoon black pepper and 2 tablespoon parmesan cheese * optional. Mix together thoroughly.

In a separate medium size mixing bowl beat 2 eggs.

Dip a pork chop in beaten eggs and place in the cashew breading bowl, and coat pork chop in cashew breading. Flip chop over and coat the other side. Once coated, place in prepared baking dish. Repeat with each pork chop.

Bake at 400 F for 20 to 30 minutes depending on thickness of pork chop. Half way through cooking time flip the pork chops over then continue baking for remaining time.
*As an Amazon Associate I earn from qualifying purchases.
Nutrition
Serving:
1
g
Calories:
240
kcal
Carbohydrates:
5
g
Protein:
18
g
Fat:
16
g
Fiber:
1.4
g
Sugar:
1
g
Nutrition Facts: Serving size: 1 medium pork chop out of 5 servings, Calories: 240, Fat: 16 g,Carbohydrates: 5 g / Net Carbs: 3.6 g, Sugar: 1 g, Fiber: 1.4 g, Protein: 18 g
*All nutritional data are estimates based on the products I used*
Recipes You May Also Enjoy:
---------------------------------------------------------------------------------------------------
-----------------------------------------------------------------------------------------------------