Low Carb Slow Cooker Meals
A collection of Low Carb Slow Cooker Meals.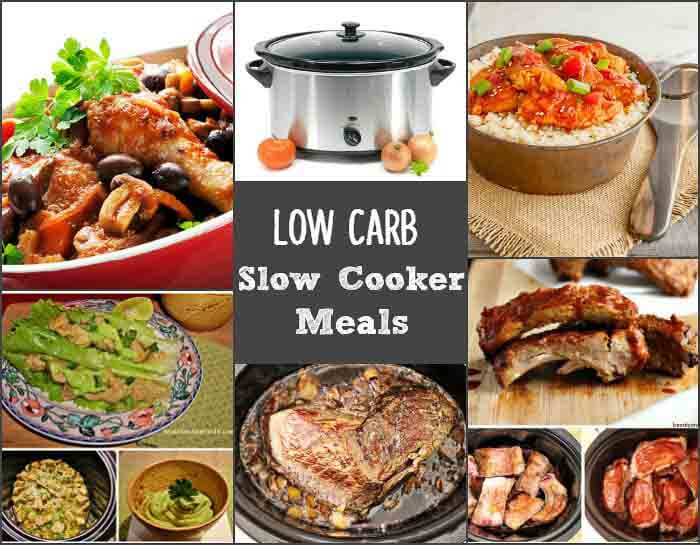 Pin
A large, recipe round-up of Low Carb Slower Cooker Meals that you can make with your crockpot.  I searched far and wide to find the best slow cooker meal recipes that are low carb.
I love using the slow cooker because the food is always warm and tender without being dry. And the best reason to use a crockpot is that you can set it and forget it!
If you don't have a slow cooker, then here are a few crock pots to check out. Click on any of the recipe titles below to go to the recipes.
Slow Cooker Chicken Recipes🍗
Slow Cooker Sesame Ginger Chicken, via Beauty & the Foodie
Slow Cooker Balsamic Chicken, via Skinny Ms
Crock Pot Chicken Marsala, via Sugar Free Mom
Spicy Crock Pot Chili Pepper Chicken, via Low Carb Yum
Italian Cream Chicken, via Low Carb Diner
Slow Cooker Spinach Artichoke Chicken, via Skinny Ms
Slow Cooker Garlic Chipotle Lime Chicken, via Beauty and the Foodie
Chicken Alfredo Spinach Lasagna, Via Ginny's Low Carb Kitchen
Slow Cooker Beef Recipes🥩
Spanish Stewed Beef, via Buttoni's Low Carb Recipes
Slow Cooker Smothered Steak Strips, via Low Carb News
Crock Pot Italian Zucchini Meatloaf, via Healthy Seasonal Recipes
Slow Cooker Coffee Roasted Beef and Veggies, via Beauty & the Foodie
Low Carb Bolognese in the Slow Cooker, via Step Away from the Carbs
Slow Cooker Pepper Steak, via Low Carb News
Burrito Beef,  via Atkins
Slow Cooker Malaysian Beef Curry, via Ditch the Carbs
Crock Pot Pizza, via Your Lighter Side
Slow Cooker Pork Recipes🐖
Crock Pot Pork Ribs & Killer BBQ Sauce, via Beauty & the Foodie
Chochinita Pibil,  via DJ Foodie
Crock Pot Luau Pork with Bacon and Cauli Rice, via Beauty & the Foodie
Slow Cooker Pork Loin with Onion Gravy, via Holistically Engineered
Mojo Pulled Pork, via Stella Style
Crock Pot Pork Chile Verde, via Beauty & the Foodie
Crock Pot Pulled Pork in Mushroom Gravy, via Low Carb News
Slow Cooker Soups & Stews & Chili🍲
Crock Pot Mexican Chicken Soup, via Low Carb Yum
Southwestern Pork Stew, via A Sweet Life
Autumn Beef & Vegetable Stew, via Keto Diet App
Italian Meatball Soup Crock Pot, via Beauty & the Foodie
Chili Colorado, via DJ Foodie
Keto Hearty Chunky Chili, via Beauty & the Foodie
Gumbo, via DJ Foodie
Slow Cooker Lamb Recipes🐑
Spiced Slow Cooked Lamb, via Keto Diet App
Lamb Curry Spinach Saag Gosht, via Ditch the Carbs
Slow Cooker Bread Recipes🍞
Crock Pot Zucchini Bread Gluten Free, via Low Carb Yum
Keto Slow Cooker Cheesy Garlic Flatbread, via Beauty and the Foodie
 Slow Cooker Dessert Recipes🍰
Crock Pot Sugar Free Chocolate Molten Lava Cake, via Sugar Free Mom
Slow Cooker Carrot Cake, via All Day I Dream About Food
Lemon Crock Pot Cake, via Low Carb Yum
RECIPES YOU MAY ALSO ENJOY:
PIN IT
Pin