Paleo Peach Mini Pies
Grain-free, paleo peach mini pies with a low-carb, keto version.
Paleo Peach Chia Mini Pies are a delicious way to add chia seeds to your diet.
Eating a ripe peach, especially if it's in a pie, is one of the best things that can happen to your mouth.
I found some fantastic, ripe peaches at the farmer's market.
I purchased a bag packed for eating and baking. If you can't access ripe peaches, you could defrost some frozen, organic peaches for this recipe.
The frozen peach slices work well in this recipe too.
These mini pies have a low-carb version depending on the choice of sweetener.
I made my grain-free, nut-free pie crust and filled it with an excellent peach filling.
Why do I always make mini pies or tarts instead of whole pies or tarts?  I make them because it gives me better portion control.  
Okay, it's actually because I get more pie crust per bite, lol.
You may use a mini tart pan, but I used a muffin pan.
I should get a lovely tart pan.
The photo below is the pie crust I pressed and smashed in the pan with my fingers.
The next photo is the crust with the peach filling before baking.
This post contains affiliate links. If you purchase through them, your cost will stay the same, but Beauty and the Foodie may receive remuneration or a small commission. Disclosure & Privacy Policy
A low-carb tart recipe you may also enjoy is my Keto Lemon Supreme Tarts.
Keto Lemon Supreme Tarts
Keto Lemon Supreme Tarts are so sweet, tart, creamy, and refreshing with a buttery tart crust, a sweet whipped cream cheese layer, and a tangy sugar-free lemon curd layer.
Check out this recipe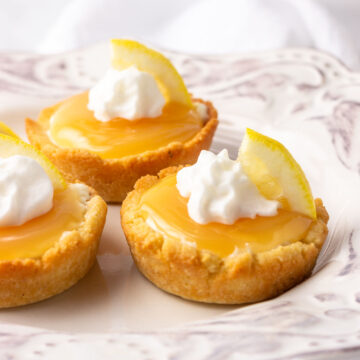 ---
RECIPE AND DIRECTIONS BELOW
📖 Printable Recipe Card
Paleo Peach Mini Pies
A grain free, nut free, paleo, low carb peach mini pie recipe. My favorite fruit pie.
Ingredients
THE CRUST:

½

cup

coconut flour

⅓

cup

butter

melted, or coconut oil, melted

1

large egg

beaten

⅛

teaspoon

sea salt * optional

1

tablespoon

Sweetener of choice: 1 tablespoon honey for Paleo version

or 26 drops liquid stevia, or 1 tablespoon erythritol ( for low carb version)

THE FILLING:

1

cup

ripe peaches

peeled and chopped ( could used defrosted frozen peaches).

¼

cup

Sweetener of choice: ¼ coconut sugar

for paleo version, or ¼ cup erythritol plus ¼ teaspoon liquid stevia for low carb version.

1

tablespoon

coconut flour

1

teaspoon

chia seeds plus 1 tablespoon water * optional for extra fiber

½

teaspoon

pumpkin pie spice

or make your own (¼ teaspoon cinnamon, ⅛ teaspoon ground ginger, ⅛ teaspoon nutmeg).
Instructions
Preheat oven to 375 F, and oil or grease a muffin pan or mini tart pan.

If using chia seeds (optional), mix with water in a small bowl and put in the fridge for 15 minutes.

Chop and peel peaches, and put peaches (including any juices) into a large mixing bowl.

Add sweetener of choice, and 1 tablespoon coconut flour to peaches in bowl.

Toss the peaches, sweetener, and coconut flour around to coat.

If using optional chia seeds, add chia seed water gel to mixture and stir in.

Let mixture set on counter for 30 minutes.

While filling is setting, start making the pie crust.

In medium bowl add all pie crust ingredients and mix well with fork until dough forms.

Squeeze dough into 6 balls.

Place dough balls into muffin pan and press and mush dough around too cover at least half of each muffin depression in pan.

Once thirty minutes has passed and filling has thickened a little, then fill each crust with the peach filling (to just slightly below the edge of crust).

Bake for 20 minutes, but check at 14 minutes and see if crust edges are browning too fast. If they are then loosely cover the top of muffin pan with a parchment paper sheet or foil sheet and continue baking.

Remove, cool and refrigerate. Crust is easier to remove from pan if it has been refrigerated for an hour.

Use a butter knife between crust and pan, and slide around to loosen and remove.

Can reheat on baking sheet in 375 F oven for 3 to 5 minutes, or microwave for 20 seconds.
*As an Amazon Associate I earn from qualifying purchases.
Notes
NUTRITIONAL DATA FOR LOW CARB VERSION WITH CHIA SEEDS: Yield: 9, serving Size: 1,
Cal: 158, Carbs: 9 g /

Net Carbs: 5.2 g

, Fiber; 3.25 g, Sugar alcohol: 0.5 g, Fat: 13 g, Protein: 3 g, Sugar: 3 g
NUTRIONAL DATA FOR LOW CARB VERSION WITHOUT CHIA SEEDS:: Yield: 9, serving Size: 1, 

Cal: 153, Carbs: 9 g / Net Carbs: 5.6 g Fiber: 2.9 g, Sugar Alcohol: 0.5 g, Fat: 12 g, Protein: 3 g, Sugar: 3 g
NUTRITIONAL DATA FOR PALEO (COCONUT SUGAR/ HONEY) VERSION WITH CHIA SEEDS: Yield: 9, serving Size: 1, Cal:192, Carbs:19 g, / Net Carbs:15.7 g, Fiber: 3.25, Fat: 13g, Protein:3 g, sugar: 14 g
Nutrition
Serving:
1
mini pie
Calories:
158
kcal
Carbohydrates:
9
g
Protein:
3
g
Fat:
13
g
Fiber:
3.25
g
Sugar:
3
g