These Paleo strawberry banana chocolate chip muffins are a healthy, paleo, treat that the whole family can enjoy.
The recipe also includes a low carb version. Easy to make, so the kids can join in and help on this one.
Great for Valentine's Day breakfast or just an ordinary Sunday morning treat. These would be amazing in those cute shaped muffin pans.
This post contains affiliate links. If you purchase through them, your cost will stay the same, but Beauty and the Foodie may receive remuneration or a small commission. Disclosure & Privacy Policy.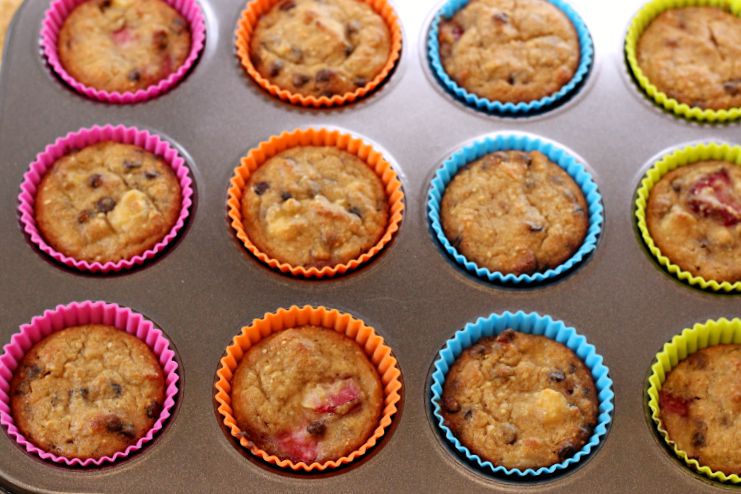 I added mini chocolate chips to mine but you could omit the chips and just have strawberry banana muffins.
These are grain free, gluten free, starch-free, and have a lower carb and dairy free options.
My son loves to have these as an after school snack and my older daughter likes to have these with coffee or tea.
Click below to check out some cute shaped muffin pans: Cute Shaped muffin Pans
Paleo Strawberry Banana Chocolate Chip Muffins with a low carb option.
PRINTABLE RECIPE CARD AND DIRECTIONS
📖 Printable Recipe Card
Paleo Strawberry Banana Chocolate Chip Muffins
Grain free paleo & low carb strawberry banana muffins with chocolate chips.
Instructions
Preheat oven to 375 F and grease or line a muffin pan.

Combine in large mixing bowl: coconut flour and cashew or almond meal. Mix together.

Add to mixing bowl: beaten eggs, sweetener of choice, melted coconut oil or ghee, coconut milk or almond milk, vanilla extract, mashed banana, and baking soda +vinegar mixture. Stir together thoroughly.

Add to the mixing bowl: chopped strawberries, and optional chocolate chips. Fold gently into the batter.

Spoon batter into muffin pan.

Bake at 375 f for 25 to 30 minutes or until done in center and toothpick comes out clean.

Cool and serve.
*As an Amazon Associate I earn from qualifying purchases.
Notes
Nutritional Facts for Low Carb Version (low carb maple syrup & low carb chocolate):

Servings: 12, Serving size: 1 muffin, Cal: 85, Carbs: 5.3 / Net Carbs: 3.6 g, Fiber 1.7 g, Fat: 6 g, Protein: 2 g, Sugar: 2 g
Nutritional Data for Paleo Version (maple syrup & chocolate chips) :

Servings: 12, Serving size: 1 muffin, Cal:107, Carbs:13 g / Net carbs: 11.3 g, Fiber: 1.7 g, Fat: 6 g, Protein: 2 g, Sugar: 8 g
* all nutritional data is an estimate based on the products I used*
To find other delicious Low-Carb, Gluten-Free recipes, Visit the Team on Facebook! Please support the team by buying: Gluten Free Low Carb Recipe Cook Books.
Recipes You May Also Enjoy: