The Best Low Carb Pumpkin Recipe Collection-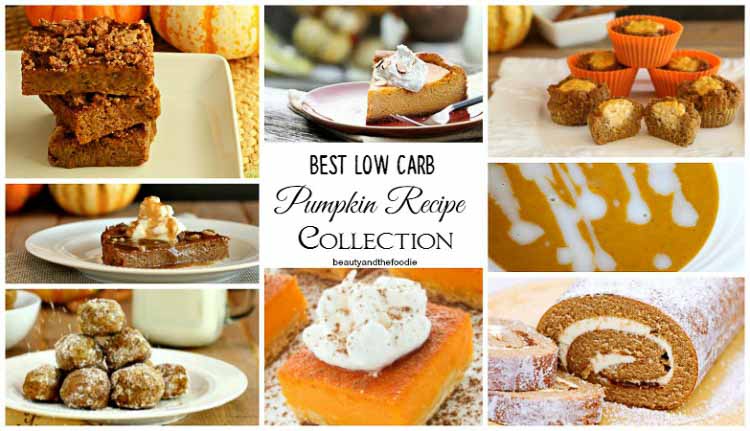 Pin
The Best Low Carb Pumpkin Recipe Collection. A large round-up of favorite low carb pumpkin recipes to make and enjoy.
Every sort of pumpkin spice recipe you could ever desire and all of them are gluten-free and low in carbs. Pumpkin is naturally low in carbs and has many health benefits.
The Health Benefits of Pumpkin
Aides in weight loss (yay)

Protects and promotes healthy skin,

May reduce cancer risk

Boosts immunity

Promotes eye-vision health.
This post contains affiliate links. If you purchase through them, your cost will stay the same, but Beauty and the Foodie may receive remuneration or a small commission.  Disclosure & Privacy Policy.
Pin
Here Is The Best Low Carb Pumpkin Recipes Collection:
(click the links below for the recipes)
Pin
Pumpkin Waffles and Pancakes:
Paleo Pumpkin Waffles, via Holistically Engineered
Low Carb Pumpkin Waffles, via Low Carb Kitty
Low Carb Pumpkin Pancakes, via Ruled Me
Keto Pumpkin Dutch Baby Pancake, via Beauty and the foodie
Low Carb Fluffy Pumpkin pancakes, via Buttoni's Low Carb Recipes
Pumpkin Pancakes with Pecan Butter, via Low Carb News
Pin
Pumpkin Muffins and Scones:
Pumpkin Chip Muffins, via Low Carb News
Sour Cream Pumpkin Butter Muffins, via Beauty & the Foodie
One Minute Pumpkin Spice Muffin with Maple Frosting, via DJ Foodie
Pumpkin Maple Flaxseed Muffins, via Tasteaholics
Pumpkin Scones with Cinnamon Glaze, via All Day I Dream About Food
Pin
Pumpkin Bread, Bagels & Biscuits:
Pumpkin Orange Cheese Bread, via Keto Diet App
Low Carb Pumpkin Spice Bagels, via Beauty and the Foodie
Low Carb Individual Pumpkin Bread, via Buttoni's Low Carb Recipes
Keto Pumpkin Streusel Bread, via Beauty and the Foodie
Low Carb Gluten Free Pumpkin Bread, via Low Carb Yum
Low Carb Pumpkin Cheddar Biscuits, via Low Carb support
Pin
Pumpkin Cakes:
Pumpkin Spice Cake with Brown Butter Frosting, via A Sweet Life
Pumpkin Cake Roll with Cream Cheese Filling, via No Bun Please
Creamy Pumpkin Cake with Caramel Sauce, via Beauty and the Foodie
Pumpkin Pound Cake, via George Stella
Pin
Pumpkin Bars:
Magical Pumpkin Pie Crumble Bars, via Beauty and the Foodie
Low Carb Pumpkin Bars, via Holistically Engineered
Sour Cream Pumpkin Cheesecake Bars, via Low Carb News
Pin
Pumpkin Cookies:
Pumpkin Pie Snowball Cookies, via Beauty and the Foodie
Chewy Pumpkin Cookies, via Buttoni's Low Carb Recipes
Low Carb Pumpkin Cookies, via They Smell
Pumpkin Pie Spice Scone Cookies, via Ruled Me
Pumpkin Spice Cookies with Cream Cheese Frosting, via Low Carb News
Pin
Pumpkin Pies:
Snow Capped Pumpkin Pie with Caramel, via Low Carb News
Pumpkin Pie with Cinnamon Almond Crust, via Gourmet Girl Cooks
Low Carb Pumpkin Pie, via The Low Carb Diet
Pin
Pumpkin Cheesecakes:
Pumpkin Cheesecake with Caramel Topping, via Low Carb News
Keto Instant Pot Pumpkin Cheesecake with Sour Cream Topping, via Beauty and the Foodie
No Bake Pumpkin Cheesecake, via Eat Drink Love
Low Carb Pumpkin Cheesecake Mousse, via Sugar Free Mom
No Bake Pumpkin Pie Cheesecake Bites, via BeautyandtheFoodie
Pin
Pumpkin Donuts:
Pumpkin Fudge Mini  Doughnuts, via Low Carb Diner
Chocolate Glazed Spiced Pumpkin Donuts, via Gourmet Girl Cooks
Pin
Pumpkin Baked Goods or Pastries:
Pumpkin Pie Dessert Nachos, via Beauty and the Foodie
Pumpkin Bread Pudding, via Low Carb News
Pumpkin Pie Dessert Pizza, via Beauty and the Foodie
Pin
Pumpkin Fudge and Candy:
Low Carb Candy Pumpkin Truffles, via Low Carb Yum
Mini Pumpkin Praline Bites, via Your lighter Side
Pumpkin Protein Fudge, via Busy but Healthy
Pin
Pumpkin Ice Cream, Custards and Brulee:
Low Carb Pumpkin Spice Latte Ice Cream, via She Knows
Pumpkin Pie Ice Cream, via Fit Living Foodies
Easy Low Carb Pumpkin Custard, via Low Carb So Simple
Pumpkin Spice Creme Brulee, via Tasteaholics
Pin
Pumpkin Drinks:
Pumpkin Caramel Latte, Low Carb, via BeautyandtheFoodie
Pumpkin Pie Smoothie, via DJ Foodie
Pumpkin Pie Frappe, via Peanut Butter & Peppers
Pin
Pumpkin Soups:
Curried Pumpkin Soup with Coconut, via DJ Foodie
Spiced Pumpkin Soup, via Ruled Me
Easy Pumpkin Bean Soup, via Low Carb Yum
Pumpkin Seafood Stew, via DJ Foodie
Low Carb Recipe Round-Ups You May Also Enjoy:
---------------------------------------------------------------------------------------------------------------------------
----------------------------------------------------------------------------------------------------------------------------