Low carb Mexican recipe roundup is a large collection of low carb, keto, gluten-free, and primal Mexican food recipes.
This Low Carb Mexican Recipe Roundup has a large collection of the best low carb recipes from all over the web.
I put together all my favorite Mexican low carb recipes from many awesome low carb bloggers into one big roundup.
So, you can easily throw together a low carb fiesta any day of the week, and never feel deprived of your favorite Mexican foods again!
All the yummy Mexican foods without all the carbs!
🌮 I Love Mexican Comfort Food!
Low Carb Mexican Recipe Roundup:
(*Click any of the links below for the recipes*)
Low Carb Mexican Breakfast Recipes:
Breakfast Enchiladas, via Low Carb Diner
Egg Bacon Breakfast Tostadas, via Beauty & the Foodie
Chupa Chorueso, via DJ Foodie
Low Carb Breakfast Burrito, via Living Chirpy
Crock Pot Mexican Breakfast Casserole, via Sugar Free Mom
Cheesy Egg Stuffed Peppers, via Wholesome Yum
Chile Verde Cream Quiches, via Beauty & the Foodie
Chicken Poblano Roll Ups, via Low Carb-ology
Low Carb Chip Recipes :
Low Carb Mexican Dipping Chips, via Beauty & the Foodie
Nacho Cheese Chips, via Buttoni's Low Carb Recipes
Easy Keto Nacho Cheese Crisps, via Beauty & the Foodie
Jack Snacks, via Buttoni's Low Carb Recipes
Low Carb Salsa and Dip Recipes:
Salsa Mexicana, via DJ Foodie
Roasted Salsa Verde, via Beauty & the Foodie
Guacamole , via George Stella
Easy Guacamole , via Tasteaholics
Instant Pot or Slow Cooker Chili Queso Dip, via Beauty & the Foodie
Taco Salad Dip with Ground Beef via Low Carb Yum
Queso Flameado Sauce via Buttoni's Low Carb Recipes
Chicken Enchilada Dip via Splendid Low Carbing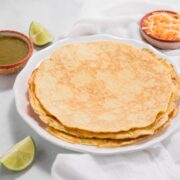 Low Carb Tortilla Recipes:
Easy Keto Tortillas or Wraps, via Beauty and the Foodie
Low Carb Tortillas, Wraps and Chalupa Shells, via Low Carb Maven
Basic Psylli Wraps, Low Carb & Gluten free, via Fluffy Chix
Low Carb Tortilla Recipe, via the Low Carb Diet
Cauliflower Wraps, via Empowered Sustenance
Low Carb Zucchini Tortillas, via Beauty & the Foodie
Not Flour Tortillas, via Buttoni's Low Carb Recipes
3 Ingredient Coconut Flour Tortillas, via Wholesome Yum

Crispy Taco Shell Recipe:
Crispy Taco Shells , via DJ Foodie
Low Carb Taco Recipes:
Easy Low Carb Grilled Marinated Steak Tacos, via Beauty & the Foodie
Low Carb Chicken and Beef Tacos, via Splendid Low Carbing
Low Carb Chicken Tacos, via Modern Low Carb
Crock Pot Chile Verde Pork Tacos, via Beauty & the Foodie
Fish Taco Cabbage Bowl, via Kalyn's Kitchen
Easy Taco Salad, via Wholesome Yum
Keto Taco Stuffed Mini Peppers, via Beauty & the Foodie
Low Carb Crock Pot Chicken Tacos, via Low Carb Crock
Layered Taco Salad with Crock Pot Taco Beef, via Low Carb Diner
Low Carb Burrito Recipes:
Mexican Chicken Burritos, via Splendid Low Carbing
Low Carb Carnitas Burrito Bowl, via Modern Low Carb
Low Carb Quesadilla Recipes:
Low Carb Chicken Quesadillas, via Tasteaholics
Chicken Quesadillas, via Buttoni's low Carb Recipes
Spicy Cauliflower Quesadillas, via Wholesome Yum
Low Carb Tamale Recipes:
Low Carb Pork Tamales Verde, via Beauty & the Foodie
Low Carb Beef Tamale Pie, via Ginny's Low Carb Kitchen
Low Carb Fajita Recipes:
Slow Cooker Steak Fajitas, via A Sweet Life
Fajitas, via DJ Foodie
Chicken Fajita Rolls, via Holistically Engineered
Chicken Fajita Lettuce Wraps, via Add a Pinch
Low Carb Enchilada Recipes:
Low Carb Beef Enchiladas with Red Sauce, via Fluffy Chix
Easy Keto Chicken Verde Enchiladas, via Beauty and the Foodie
Beef Enchiladas, via Buttoni's Low Carb Recipes
Chicken or Turkey Enchiladas, via Splendid Low Carbing
Low Carb Nachos:
Low Carb Reverse Nachos with Pork Carnitas, via Modern Low Carb
Low Carb Nachos, via Low Carb Diets About
Low Carb Mini Pepper Nachos, via All Day I dream About Food
Low Carb Pork Rind Nachos, via Thrifty DIY Diva
Spicy Chicken Cheddar Nachos, Wholesome Yum
Mexican Seafood Recipes:
Shrimp Diablo, via DJ Foodie
Ceviche, via Marge Burkell
Mexican Shrimp with Chiles, via Buttoni's Low Carb Recipes
Mexican Shrimp Cocktail, via Deliciously Thin
Low Carb Mexican Soup Recipes:
Creamy Spicy Four Pepper Soup, via Cut The Wheat
Sopa de Lima, Chicken Chile Lime Soup, via Beauty & the Foodie
Pork and Cilantro Soup, via Buttoni's Low Carb Recipes
Instant Pot or Slow Cooker Chicken Salsa Queso Soup, via Beauty & the Foodie
Beef Enchilada Soup, via Low Carb Diner
Mexican Casserole Recipes:
Bacon and Jalapeno Casserole, via Low Carb Family
Low Carb Nacho Pot Pie, via Beauty & the Foodie
Low Carb Mexican Casserole, via The low Carb Diet
Low Carb Mexican Chicken Lasagna, via Low Carb Yum
Easy Mexican Chicken Bake, via Beauty and the Foodie
Beef Chile Relleno Casserole, via Buttoni's Low Carb Recipes
Mexican Zucchini and Beef, via Low Carb Yum
Chicken Chile Relleno Casserole, via Buttoni's Low Carb Recipes
Easy Taco Chili Skillet, via Beauty & the Foodie
Low Carb Mexican Pizza:
Low Carb Mexican Pizza, via Beauty & the Foodie
Low Carb Mexican Desserts:
Chocolate Cinnamon Flan, via Beauty & the Foodie
Abuelita's Chocolate Truffles, via Low Carb Diner
Mexican Hot Chocolate Cookies, via Ruled Me
Cinnamon Churritos, via DJ Foodie
Low Carb Mexican Drink Recipes:
Sangria, via Carb Wars
Margaritas Low Carb, via All Day I Dream About Food
Low Carb Mojitos, via Divalicious Recipes
Mexican Hot Chocolate, via All Day I Dream About Food
Recipes You May Also Enjoy: